Portable cnc plasma flame cutting machine for metal pipe and plate
CCL-TP Portable CNC cutter, depends on plasma or flame cutting way; It is portable but with multiple functions, it is perfectly suitable for kinds of metal sheet and metal around pipe profiles cutting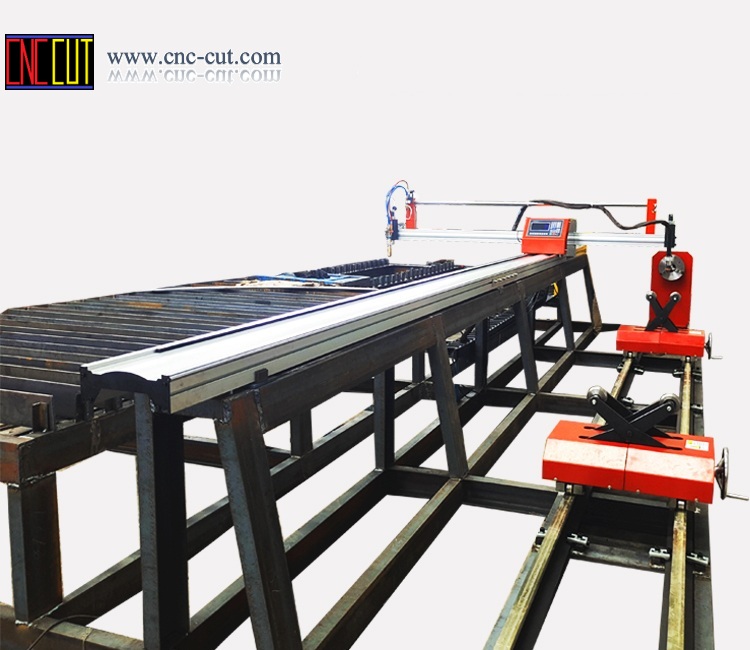 Parameter:
Item

Parameter

CNC cutting metal sheet width

1.0-1.5m

CNC cutting metal sheet length

3-12m or customized

CNC cutting metal pipe length

3-12m or customized

Cutting pipe diameter

Φ40mm-Φ320mm(Or Customized)

Max loading pipe weight

>800KG

Metal Pipe Ovality

≤2%

Running precision

±0.2/m

Torch up down distance

130mm

Flame cutting thickness

Piercing:5mm-50mm/ Rim:150mm

Plasma cutting thickness

0.1-25mm

Cutting Speed

Flame cutting way 700mm/min

Plasma cutting 0-6500mm/min
Feature
1. Adopts the portable cross structure, host and metal pipe or sheet are arranged in parallel.
2. Precision lifting device with flame and or plasma cutting torch as cutting way.
3. Adopts the chuck, movable pipe support for metal round pipe.
4. Cutting controlled by host, left side is metal sheet cnc cutting, right side is pipe cnc cutting.
5. Metal sheet cutting or metal pipe cutting easily switch.
6. Pipe end and pipe hole all available for automatic cutting.
7. Suitable for 1.5m metal sheet and 40-325mm diameter metal pipe does not require bevel function.
8. CNC CUTTER LIMITED TP Series portable CNC metal sheet and pipe intersecting line cutting machine is a kind of steel sheet and pipe profiles cutting.
9. The equipment is widely used in construction, steel structure, chemical industry, shipbuilding, mechanical engineering, metallurgy, electricity and other industries of the pipeline structure of the cutting process. Which this kind of processing in the past mostly using manual production model, scribing, manual lofting, manual cutting, artificial grinding and other backward and complicated operation process.