Gantry CNC Plasma and Flame Cutting Machine
CCL-GC is the compact iron gantry CNC plasma and flame cutter machine; it is compact just compared with our heavy gantry, it is still stronger than most of gantries in market.
Compact gantry plasma & flame CNC cutter CCL-GC
Quality wrranty 12-24 months! Users from 68 countries.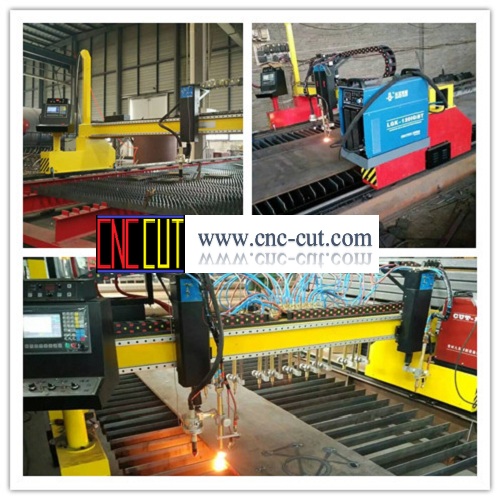 Compact Gantry plasma flame CNC Cutter CCL-GC by CNC cutter limited is one of the most classical CNC cutting machines. It is with all gantry functions and advantage, but costs lower much than traditional heavy gantry. It provide your fabrication shops with the most efficient but some economical CNC metal sheet cutting solutions.
Advance:
1. Box shape and dual driving gantry structure, release gravity and stress, ensure good condition in long life.
2. Reasonable gantry size: 3.0m-3.5m with effetive cutting 2.2-2.5m, suitable for most kinds of metal sheet.
3. Iron structure, divided basis and cutting platform, good rigidity, easy installation and disassemble, not weight limit to cutting material, no deformation in long time using.
4. Taiwan linear guide+fine finished train rail+G7 rack and pinion, Powerful Servo+Planetary gear box; perfect running precise and stable transmission.
5. Ball screw torch auto height controller, accuracy and safty.
6. Separated Electric cabinet and CNC controller, safe operation, easy maintain.
7.Powerful CNC Controller with functions of break point & power off restoration, kerf compensation, Common figures library, sustain professional nesting (common line etc).
Parameter:
Beam Width (X axis): 3m-3.5m
Rail Length (Y axis): 6m(can be lengthened)
Effective Cutting Width: 2.2m-2.5m
Effective Cutting Length: 4.5m(can be lengthened)
Cutting Mode: CNC Flame and/or CNC Plasma
Flame Cutting Material: Carbon Stainless Alloy steel, Aluminium, Zinc etc
Flame Cutting Thickness: 5-200mm
Plasma Cutting Thickness: 0.1-65mm or depending on the plasma generator
Cutting Speed: 0-6500mm per minute
Optional item: Extra plasma/flame cutting head
Japan Panasonic servo
NC Plasma generator(power source)