Contact Us
Name: CNC CUTTER LIMITED
Tel: +86 15171412223
Whatsapp:+86 15171412223
Skype: MOONIDY
E-mail: info@cnc-cut.com
Add: East Lake High & New Tech Development Zone| Wuhan 430079 | China
Contact us On Line.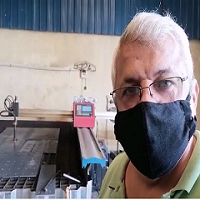 CNC CUTTER LIMITED portable cnc plasma cutter serier working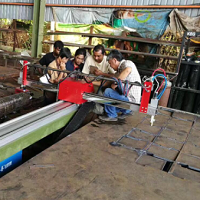 CNC CUTTER LIMITED portable pipe cnc cutter serier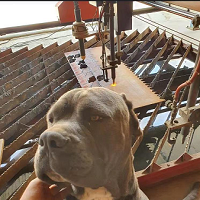 CNC CUTTER LIMITED gantry CNC plasma flame cutter serier working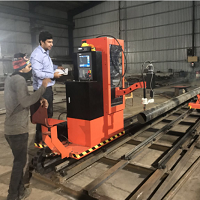 CNC CUTTER LIMITED heavy pipe cnc plasma cutter serier working
Plenty users of our gantry type CNC plasma and oxyfuel cutting machines are in Americ! Some of them say Spanish, some say English, some say Portuguese. Language is not the ban to use our CNC plasma and oxyfuel cutting machines to earn great profit for them. Meanwhile, sexual also not ban, it is observed that, 20% of CNC plasma and oxyfuel cutting machines operators are femal. Every company and p...

Metal sign and metal craft usually is required in outdoor advertisement, furniture, stove etc; these works can be done by our plasma cnc cutting machine. After designing by CAD, enter into our machine CNC controller, then can output the crafts cutting; this showing is making by one of Europen friends, thanks for the sharing....

Our classic compact gantry type cnc plasma and oxyfuel cutting mnachine GC purchased by one of the devision company of mid Asia. With the full satisfied functions by them, say CAD design profiles, auto nesting, auto height controlling, auto cut etc, this cnc plasma gantry cutting machine greatly advanced their metal sheet cutting efficiency. With the experience in oxyfuel cutting but not plasma h...

At the beginning likewise most users blindly want to select a international famous brand but which is with 10 times price and less functions; after seeing we cnc cutter limited products and finally encouraged to try. Nowadays, the portable gas cnc cutter / portable plasma cnc cutter have been still earning profit for users, earned tens times more....

Portable plasma cnc cutting machine, similar structure with crossbow, can be plasma cnc cutting, and flame cnc cutting...

Customized heavy gantry CNC plasma and flame cutting machine CCL-GH, customized for oversea client, specically with 650mm+ width beam, metal hose, international famous brand components etc; durable in high heat cutting situation....

CNC plasma cutter compact gantry type finished installation...

Stainless steel plasma cutting by our portable cnc plasma cutter machine CCL-P. CNC plasma cutting machine is suitable for all kinds of metal cutting, materials can be stainless steel, carbon steel, aluminium, alloy etc....

Our mini cnc plasma cutter at site. This mini cnc plasma cutter is our P-1530 with LGK-120IGBT, it was purchased by a estate project, and after the estate finishing, machine will be move to another project for continue servicing....

Gantry cnc plasma cutting machine with water tank...