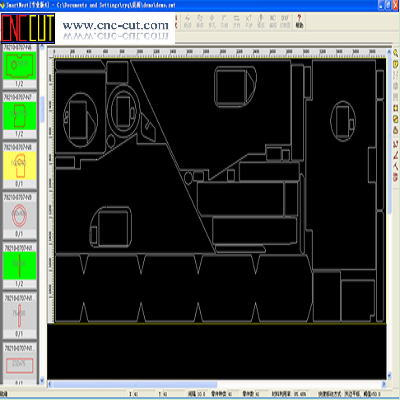 SmartNest Cutting Programming Software
Improve the rate of steel cutting dressing, effectively save steel material, improve CNC programming, dressing and cutting efficiency, effectively improve cutting production efficiency.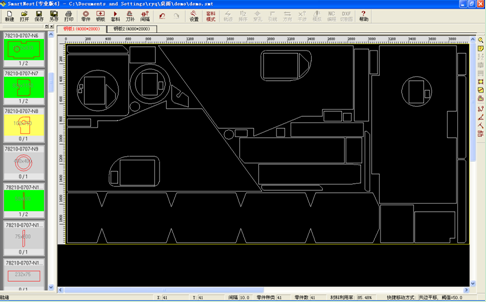 I.Detailed description:
SmartNest is developed by Huazhong University of Science and Technology more than ten years of unremitting efforts, carefully developed a cutting package programming software with independent intellectual property rights, the software's core technical indicators have reached a high international level! Professional research and development team, continuous improvement and improvement, long-term application practice will smartNest into China's outstanding professional-grade products, by users as "China's current powerful cutting package programming software"!
SmartNest is a computer software system for sheet cutting materials, with powerful optimization and automatic programming functions, suitable for flame/plasma/laser/water jet and other types of cnc cutting machines. The function of SmartNest software covers all aspects of sheet material and its production management, including cutting parts library management, sheet and rest of the material library management, automatic dressing, interactive package, cutting trajectory optimization, CNC automatic programming and cutting simulation, data summary and statistical reports, and can be integrated with enterprise PDM, ERP and other information systems to provide integrated solutions for the production of cutting materials for enterprise sheet cutting materials. The practice shows that the application of SmartNest system can obviously improve the utilization rate and programming and operation automation level of the under-material enterprise, effectively reduce the cost of products, standardize production management and improve economic efficiency.
II. SmartNest product features
1.Full yped
Available in a variety of algorithms (real shape/rectangular envelope/pass-cutting/array)
Support for a variety of feeding modes (single sheet/batch/copy/residual/local filling/interactive)
Integrated data management (parts library/steel bank/statistical report)
2.Advanced technology
Fully automatic high-speed optimization of the dressing (material utilization increased by 1% to 5%)
Fully automatic intelligent common edge cutting (provides a variety of common edge cutting methods, cutting efficiency increased by 10% to 50%)
3.Easy to operate
10 minutes to learn basic operation!
3 minutes output cutting code!
4.Independent copyright
With full independent intellectual property rights.
To the well-known universities for technology support, to provide high-quality localization services
III. SmartNest main features:
1.Cutting parts library management
2.Cutting steel plate library management
3.Automatic nest
4.Interactive nest
5.Cutting path optimization
6.Automatic programming and cutting simulation
7.Data summary and statistical report
8.Integrated solutions
Scope of application:
For CNC cutting machines, including flame, plasma and other CNC cutting machines, for any shape of parts of the drawing, programming, sleeve, check and CNC cutting.
Purpose of use:
Improve the rate of steel dressing, effectively save steel, improve programming, dressing and cutting efficiency, effectively improve cutting production efficiency.