Metal Pipe CNC Plasma Cutting Machine
CCL-T65 depends on CNC plasma cutting and or CNC flame cutting way; Suitable round metal pipe diameter 30mm-300mm, 60mm-600mm etc; Sustain random bevel cutting, angle +/-45 and any profile shape on pi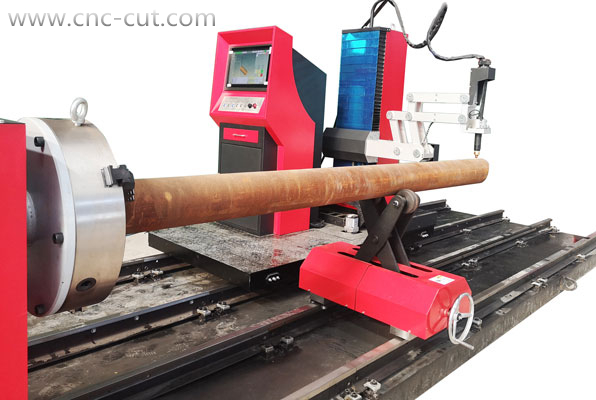 *CNC plasma cutting or CNC flame cutting.
*Overall structure, 6 axis and 5 interactional axis, Operation is simple.
*Suitable for pipe diameter 30-300mm, 60-600mm, 80-800mm, 100mm-1000mm.
*Suitable for pipe any surface intersection profile cutting with random bevel
.
Introduction:
The CCL-T65 series CNC intersectional cutting machine is a kind of automatic calculation and cutting of the round tube end combination.

The equipment can be widely used in construction, petrochemical, machinery, metallurgy and other industries of the cutting and processing of pipeline structures.

These industries have a large number of pipeline combined with line holes, line end, such processing is mostly using the production of model, drawing, manual placement, manual cutting, manual grinding and other backward and complex methods.

And our

CCL-T65

series CNC tube intersectionline cutting function is very convenient to cut such artifacts, and the operation of workers do not have to program, only need to enter the radius of the tube with each other, intersection angle and other parameters, the machine can automatically cut out the pipe line, cross hole, and welding slope, no longer need manual grinding.

THE

CCL-T65

series CNC circular tube intersection line cutting machine adopts cylindrical coordinate coefficient control, and controls the number of axes to 5 axes. With English interface, parameter input and human-machine dialogue function, fixed angle bevel face cutting function, variable angle bevel face cutting function, online automatic ignition, preheating, perforation function, cutting speed change automatic control function.

CCL-T65

series pipe CNC intersectional tube line cutting machine CNC control interface with graphics and data combination, the operation is very simple: the operator only need to be the director and branch radius, intersection angle, cutting speed and other parameters into the computer after pressing the "start" button, can automaticignition ignition, warm-up, cutting and other automatic operations.

The software designs a reasonable cutting introduction lead, so that the quality of the cutting surface is guaranteed, after each cutting parameters can be saved as a document, for the same workpiece for later use.

CCL-T65

series CNC tube consistent line cutting machine cutting method can be selected according to user requirements oxygen acetylene gas cutting, oxygen liquid fossil gas gas cutting or plasma cutting.

The maximum minimum cutting tube diameter and the length of the pipe can be designed and manufactured according to user requirements.
Parameter:
Item

Parameter

CNC Control Axis

5/6

Cutting pipe length

6-12m customized

Chuck Size

250#/500#

Cutting pipe diameter

Φ30mm-Φ1000mm(Customized)

Max loading weight

>3000KG

Pipe Ovality

≤2%

Running precision

±0.2/m

Torch up down distance

210mm

Flame cutting thickness

Piercing:5mm-50mm/ Rim:150mm

Plasma cutting thickness

0.1-25mm

Cutting Speed

Flame cutting way 700mm/min

Plasma cutting 0-6500mm/min
CNC Pipe Profile Cutting Machine Applications
What is your greatest worry in a fabrication process? Is it the complexity of the design, poor production flow management, inefficient material handling with too much material waste, loss of control over the operating expenses, or the lack of highly skilled welders? Then, how do you deal with the increasingly tough demands and regulations placed on welded structural design?
Steel Construction
The CCL-T65 can simplify the fitting and welding job to fabricate tubular structures. This CNC Pipe Cutter uses technology to cut pipes for easy and time saving fitting and welding of highly dynamic pipe connections. Using traditional cutting methods a fabricator can cut up to 10-20 tons of pipe per day while with the CCL-T65 CNC Pipe Cutter a fabricator can cut over 40 tons of pipes a day.
Industry application: Plasma pipe cutting for stadiums, bridges, theme parks, expo centers, airport structures, shopping malls, cranes, trusses
Process
The CCL-T65 CNC Pipe Cutter is simplifying the way fabricators keep their welding booths supplied with enough spools cut to tolerance, without having skilled welders wasting their time on fitting. With the CCL-T65 CNC Pipe Cutter the fabrication of a typical header with 82 beveled holes on it, which usually takes around 26 hours, was reduced to only 2 hours.
Industry application: Plasma pipe cutting for skids, frames, spools, manifolds, pipe lines, headers lobster backs, boilers, nozzles
Related Products