High definition cnc plasma cutting machine
High definition cnc plasma cutting machine
1.Cutting area: 2.0m*4.0m, 3.0m*6.0m, 4m*8.0m etc as your required. 2.Stable, durable, high precision. 3.CNC plasma cutting and or CNC flame cutting.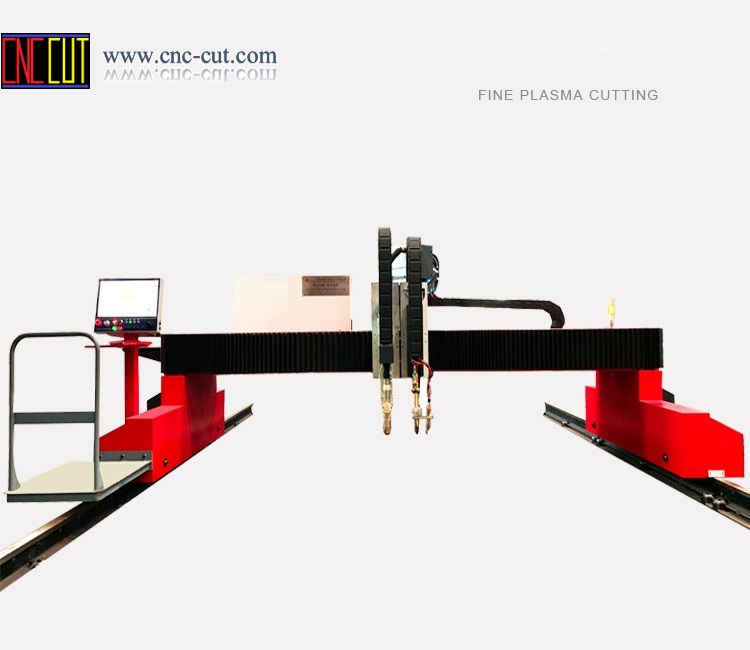 Parameter



Item

Unit

Parameter

1

Rails center distance

mm

3000-7000(Customized available)

2

Rail length

mm

8000(Customized available)

3

Effective cutting width

mm

Rails center distance-800mm

4

Effective cutting length

mm

Rail length-2000mm

5

Torch unit/carriage quantity

Set

As customer requirement

6

THC travel distance

mm

200

7

Cutting Speed

mm/min

0-6500

8

Empty moving speed

mm/min

0-10000

9

Cutting thickness

mm

Plasma: 0.1-75mm Mild steel, stainless steel, Aluminium, copper etc

Flame: 6-300mm mild and medium steel.
Advantage:
1. Adopts the box welding structure, material uses 8mm national standard steel plate after laser cutting.
2. The front of frame is with 18mm steel plate after welding with the entire surface of the planer, can greatly reduce the total deformation of the machine, improve the accuracy of the machinery.
3. The whole machine is by heat treatment to eliminate stress, with good rigidity, not deformation, high precision, small inertia characteristics.
4. Longitudinal and transverse drive all have precision bias gear rack and linear guide, auto oil, auto clean.
5. Longitudinal drive frame (support frame): The two ends are equipped with a horizontal guide wheel, which can adjust the clamping degree of the eccentric on the bottom of the drive frame, so as to keep the whole machine in a stable direction in the movement.
6. International famous components: Hiwin linear guide and racks, Hypertherm high definition plasma generator, Hypertherm arc glide THC, Hypertherm CNC System etc.