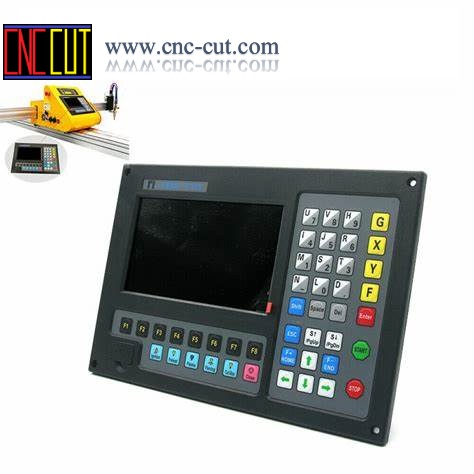 CNC System F2100B
Model F2100B CNC System for Cutting is designed to work with Oxyfuel and or plasma cutting in metal working, suitable for portable CNC machine structure.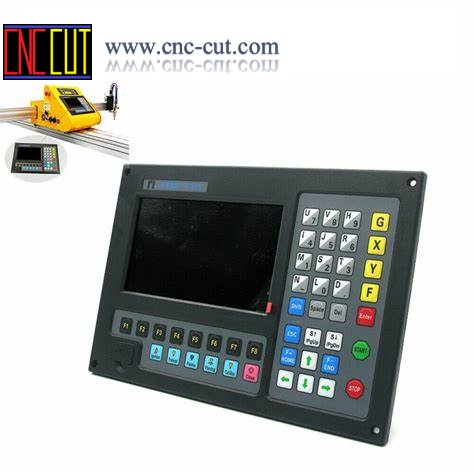 Model F2100B CNC System for Cutting is designed to work with Oxyfuel and or plasma cutting in metal working, suitable for portable CNC machine structure.
CHARACTERISTICS OF SYSTEM
1) 7 inches 800*680 dots color LCD.
2) Chinese/English file system and menu, and the menu can be switched only by one key.
3) 45 categories different graphics (including grid pattern), chip part and hole part are alternative.
4) Support the EIA code (G code) and various FastCAM、FreeNest、SmartNest、IBE softwares.
5) compact keyboard design and easy to input files.
6) Graphics have some operations such as Proportion, Rotate, Mirror.
7) Graphics can be arrayed in matrix, interaction, stacked modes.
8) Steel plate can be adjusted according any steel side.
9) Coordinate system can be customized to support the two-dimensional coordinates of all eight kinds.
10) All input and output port type and the number can be customized (normally open or normally closed)
11) Self-diagnostic function, to diagnose the key status and all the IO status, facilitate inspection and debug
12) Provide a front USB interface for copying files.
13) system can be upgraded by USB interface easily, and we provide lifetime free upgrade service.
14) all functions and techniques can upgrade online and don't worry about the after sale service.
15) Import and export files by single or all files.
16) Display time, week and clock.
17) Parameters backup and online upgrade.
18) Support the Flame, Plasma, Dusting draw and Demonstration four kinds of mode.
19) Including various types of processing parameters to meet the needs of different processes.
20) Flame and Plasma are separated in the control IO ports.
21) Support THC, two level preheat, three level pierce in flame mode.
22) Plasma arc feedback, positioning feedback, automatically shut down the arc at the corner.
23) Support edge cutting. It can save the preheat time for the thick steel plate.
24) Movement speed can be real-time acceleration, deceleration.
25) According to plate thickness, the cutting speed is automatically restricted by a speed limit in the corner, effectively preventing over burn.
26)select row and column manually.
27)Dynamic/static illustration of the process, graphics zoom in / out, dynamically tracking cut-off point under zooming state.
28)DSP as core can control the machine move in high speed accurately, stability and in low noise.
29)Starting speed and acceleration can be set by your convenience.
30)Automatically memorize the working situation and the last cutting point when power off.
31) "Cutting offset" function can avoid waste the steel plate when the nesting of the plate is calculated wrong.
32)set up different administration authority and the corresponding password to safeguard the interests of managers.
33)Long-distance remote control can control the machine to move forward ,backward, left, right and cutting start, stop and so on (optional configuration).
TECHNICAL STANDARD
1) Control Axis:2
2) Control accuracy :+/-0.001mm
3) Coordinate range:+/- 99999.999mm
4) Max pulses : 200kHz Max speed:15000 mm/m
5) Max lines of code:10000lines
6) Max size of single code file:1M
7) Time resolution :10ms
8) Working Voltage: DC 24V in put
9) Working Temperature:-10℃-60℃. Relative Humidity, 0-95%.