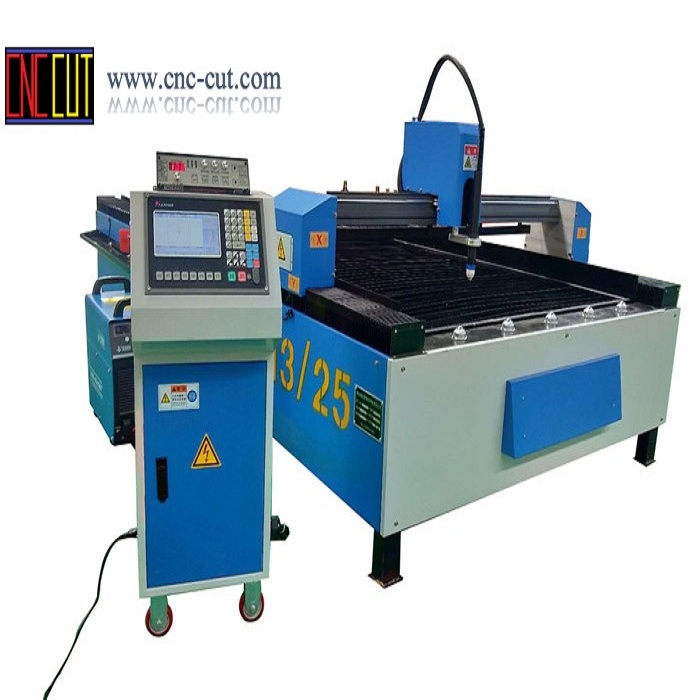 Plasma CNC Cutting Table
Specically designed for CNC plasma cutting, high speed, high precision, high stable, perfect for middle thick and thin metal sheet cutting.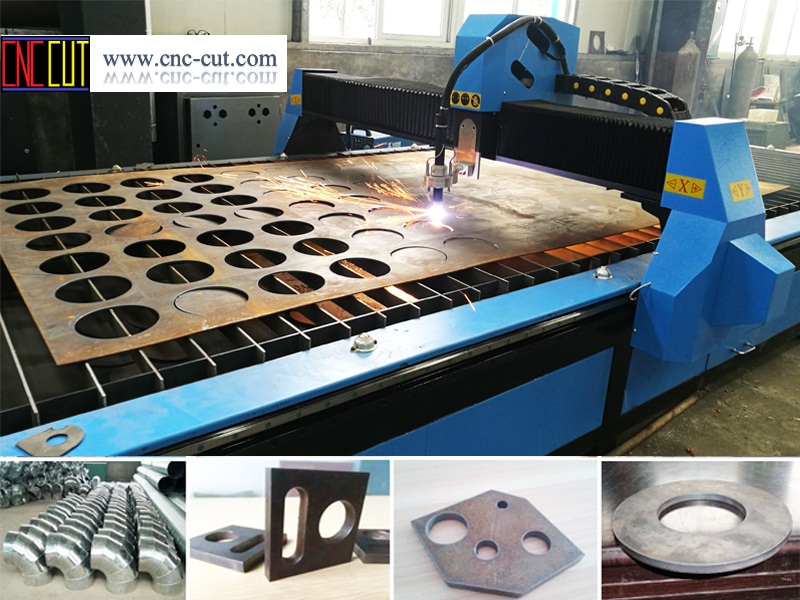 | | | | |
| --- | --- | --- | --- |
| | Item | Unit | Parameter |
| 1 | Width | mm | 1800(Customized available) |
| 2 | Length | mm | 3500(Customized available) |
| 3 | Effective cutting width | mm | 1500 |
| 4 | Effective cutting length | mm | 3000 |
| 6 | THC travel distance | mm | 120 |
| 7 | Cutting Speed | mm/min | 0-7000 |
| 8 | Empty moving speed | mm/min | 0-12000 |
| 9 | Cutting Thickness | mm | 0.1-65mm |
| 7 | Cutting Material | | Carbon steel, Stainless steel, Aluminium etc |
Advantage:

Machine structure: Frame is thick-walled square tube overall welding, artificial aging bed, strong non-deformation, good rigidity. Whole structure assembled delivery, ensure good installing and running precision. With water tank together, enviromental and friendly operation.

Track Dimensions: The longitudinal guide rail uses T rail linear guide, two rail side mounted longitudinal rack, like the gantry structure of the output gear to achieve the bilateral drive.

Electronic control system: Control system is well-known brands, with simple interface but powerful function, says, drawings liberary, auto nesting, cutting demo etc; The controller adopts the modular structure, the wiring is simple, reasonable, standard, convenient maintenance, large number of use of scale integrated circuits, small size, stable performance and other advantages. The control circuit uses the professional shielding line, effective shielding interference; operation is stable and reliable.

Reducer mechanism: The use of domestic top brand reducer, can guarantee the good quality; Tooth rack: High-precision 7-stage fine grinding teeth.
Our plasma cutting table CCL-BL are the most full-featured CNC plasma cutting machines available on the market. With and industrial controller, powerful and reliable digital motors and drives, and a plasma unit from the accepted industry best, the CCL-BL plasma cutters offers precision cutting of steel, aluminum, brass, copper, and other conductive metals.
CNC Cutter Limited uses industrial grade linear ways and guides on all of our CCL-B Series machines to ensure we hold the tightest tolerance over the life of the machine. We build all of our CNC plasma cutting machines to industrial standards on our frames. We use roll out drawers for easy access for slag and small parts removal.
The Simplest CNC Interface on the Market Today
Most notable software gives the operator a very easy and very quick interface to complete the task at hand. Just draw and cut — what you see is what you get.
Set up and installation of our CCL-BL Plasma Cutting Machines can generally be completed in just a few hours. Since there are no CNC codes to learn, an operator can be trained in a few hours and be producing parts efficiently in a couple of days. Technical support is available free of charge via phone or email for as long as you own the machine.
Equip with Automatic Torch Height Control
With automatic torch height control, even thin material can be cut accurately and efficiently by following the rise and fall of the warp of the plate. Every CCL model comes standard with a full-featured automatic torch height control utilizing sensing that will automatically set the torch to the optimal height. To eliminate the chance of collisions, we include a 360 degree torch collision/damage avoidance feature.
Internal digital drive amplifiers deliver closed-loop motion control to the X and Y axes for cutting and the Z axis for torch level positioning. Resolver feedback allows accurate and repeatable positioning capabilities typically found in much more expensive machines.