Table CNC Plasma Flame Cutter
Table CNC Cutter CCL-BH is with heavy table structure, can be with CNC plasma cutting, oxyfuel cutting both; Its heavy struture make heavy oxyfuel cnc cutting and plasma cnc cutting no any limitation.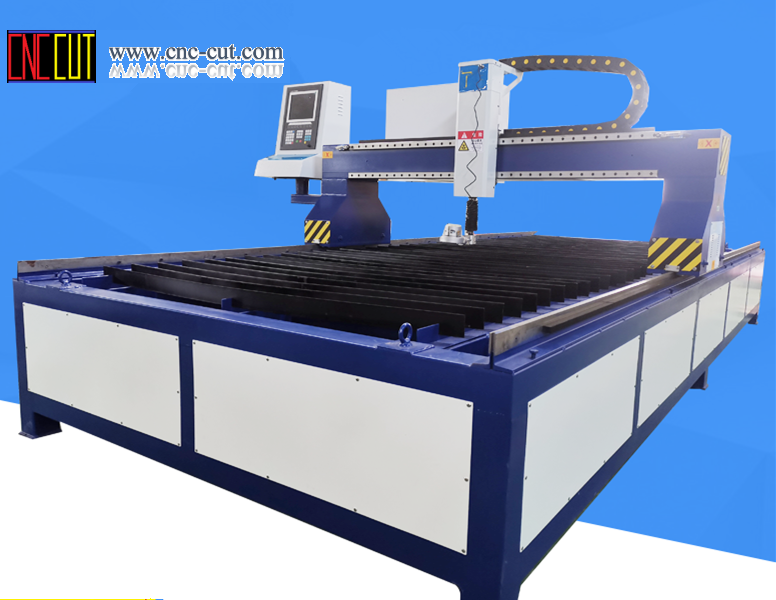 Heavy plasma flame cnc cutting table CCL-BH by CNC cutter limited is the most complete CNC cutting machine. It provide the most free worrying (table making and commissionning) plasma and flame CNC cutting solution.
Box shape and dual driving gantry structure, release gravity and stress, ensure good condition in long life.

Reasonable size: 1.5m*2.5m or 1.5m*3.0m;

Overall structure, release you from basis and cutting platform manufacturing; exhausting and parts collection system environmental and convenient.

Taiwan linear guide+lift rail/Taiwan linear guide+G6 rack and pinion, Powerful engine+Planetary gear box; perfect running precise and stable transmission.

Ball screw torch height controller, accuracy and safte.

Enhanced and separated table, ensure heavy sheet carrying capacity; heavy structure no limited thin or thick, plasma or oxyfuelc cutting way.

Assembled delivery, free you from cutting platform manufacturing and commissionning.
Break point & power off restoration.

Returning to reference point.

Kerf compensation.

Built-in library, Common figures, sustain professional nesting(common line etc).

5.7'/10.4' Monitor, 64M-2000M memory for programs.

Corner speed automatically adapt.
Effective Cutting Width: 1.5m (can adjust)

Effective Cutting Length: 2.5m (can adjust)

Cutting Mode: Plasma and/or flame cutting

Cutting Material: Carbon Stainless Alloy steel, Aluminium, Zinc etc

Plasma Cutting Thickness: Depending on the NC plasma generator

Flame Cutting: Thickness 5-100mm

Cutting Speed: 0-6500mm per minute

Optional item: Extra plasma/flame cutting head/ Japan Panasonic servo/

NC plasma generator(Power Source) etc